There are no tickets
available for purchase
at this time.
Get Tickets
Open Mic Night with Subcontinental Drift Boston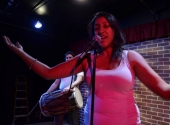 On Wednesday November 5, following a performance of SHIV, Subcontinental Drift Boston joined us to host an amazing open mic night. Audience was treated to hypnotic performances from, among many others, singer-songwriter Saraswathi Jones, poet Irfan Malik, and the Trilogy's own Michael Dwan Singh and his band The Shadow Notes. Check out the gallery for photos and video!