There are no tickets
available for purchase
at this time.
Get Tickets
Link Roundup! – 1/8/16
Link Roundups feature articles and bits of internet goodness that our dramaturgy team digs up. If you find something you want to send our way, drop us a line on Facebook or Twitter!
♦♦♦♦♦
American Theatre published a post in support of the playwrights that a few recent casting controversies centered around, and include over 1300 signatures from artists and students across the country who share their support:
Yes, this can be a complex and nuanced discussion. Yes, we enter into those discussions with different perspectives and familiarity with the issues. Yes, the missions of educational institutions are different from those of professional theatres. It is critical, however, that we don't let those differences and complexities keep us from acknowledging the systemic racism that afflicts our country, nor our power as storytellers and community builders to end it.
♦♦♦♦♦
NPR highlights a recent article from The Atlantic about color-blind casting, arguing that color-conscious casting in film and television leads to a richer viewing experience:
We know that whiteness often masquerades as a kind of baseline experience without inflection or inclination in American life, and so we tend to buy the idea that progress for actors of color means a choice between roles in which their character's race is either utterly unremarked upon (see early Grey's Anatomy), or where race is the entire point (12 Years a Slave and other productions About RaceTM and hardship).

Of course, the backgrounds of the characters needn't be foregrounded in every scene for it to be acknowledged. I'm thinking of Creed, the very good recent entry to the Rocky canon that doesn't run away from the fact that the successor to the Italian Stallion is a black dude who navigates a distinctly black social setting. The same could also be said of Master of None, Aziz Ansari's Netflix series about the life of a struggling actor in New York. The show is sometimes a straight-ahead romantic comedy, and other times it deals directly with the way being desi complicates and informs the professional and personal life of Aziz's character. (It probably matters that both are the creations of people of color.)
♦♦♦♦♦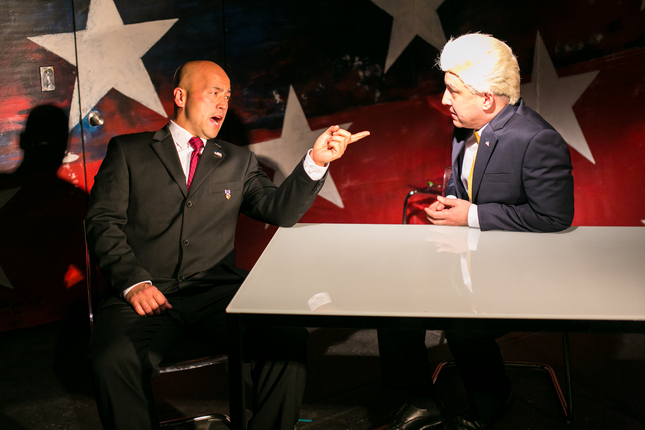 CHESHIRE ISAACS/IMPACT THEATRE GOP presidential candidate Len (played by Michael Uy Kelly) is interviewed by a cable news personality (Matthew Lai) in "Mutt," a wild satire about race and politics playing at Berkeley's Impact Theatre. ( it )
Impact Theatre, based in the Bay Area, has announced that they will be closing later this year:
"We're stuck in a weird financial place because most grants require you to have an annual budget of $100,000 or more," Hillman says. "And we can't make enough in ticket sales to grow. All that money to grow comes from grants and donations, and when we're doing new plays by emerging playwrights in a basement with pizza and beer, our audience always skews really young, and those people just don't have a lot of money. That was the audience we wanted, that was the audience we went for, and that was part of the whole point of keeping ticket prices accessible."
♦♦♦♦♦
The Nonprofit with Balls blog has some good reminders about how the term equity, while a great goal to strive for, can easily be watered down and turned into another meaningless buzzword:
At this early stage in the development of equity as a mainstream concept, the dissonance is understandable. We are all still trying to grasp what equity is and what it means for our field. But there are too many instances of dissonance out there that if we don't stop to reflect, there is danger of "Equity" doing more harm than good, since it can lull us into a false sense of security. True equity requires us not to just throw around concepts at summits and sprinkle terminologies on websites and strategic plans, but to reevaluate our beliefs and practices and definitions and board and staff composition and leadership and hiring practice and funding allocation processes and who is at the table and who set the table in the first place, etc. It requires us to change our ways of doing things.