There are no tickets
available for purchase
at this time.
Get Tickets
Link Roundup! – 12/18/15
Link Roundups feature articles and bits of internet goodness that our dramaturgy team digs up. If you find something you want to send our way, drop us a line on Facebook or Twitter!
♦♦♦♦♦
American Theatre has a piece about companies that are including amenities for work/life balance, like on-site child care, into their operations:
Creating a supportive work enviornment can address both old dilemmas and new social realities. Jobs in the nonprofit theatre can be less lucrative than jobs in other sectors, observes Amanda White Thietje, managing director of Minneapolis's Mixed Blood Theatre. At Mixed Blood, she says, "The salaries do not match the corporate headquarters nearby." So it behooves the company to consider, as she puts it, "What are the ways we make sure [employees] feel rested and appreciated and have time with their families?" Such a strategy can have the added bonus of cutting down on employee turnover, which is expensive and disruptive for a company, she notes.
♦♦♦♦♦
The Boston Globe highlighted the recent NEA grant awards, including the one Company One received for a new Kris Diaz project:
The piece, using the rivalry between the Celtics legend and Wilt Chamberlain to highlight issues of race, class, and segregation in Boston, was commissioned by the Oregon Shakespeare Festival as one of a series of plays addressing US history.
♦♦♦♦♦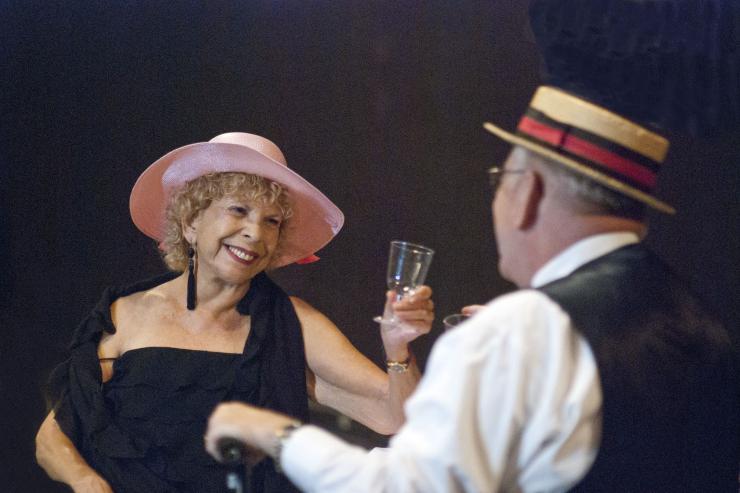 HowlRound's series on Senior Theatre has had some great posts this week, including one by Lynn Mullin about aging in the arts:
When we do see representations of older adults, they are too often distilled into stereotypes: wise, angry, nagging, often helpless, and dying. These ageist tendencies are strikingly similar to the continued issue of whitewashing in media. Just as in issues of race, there is a distinct lack of diversity in characters for older adults, which may in part be because there is an underrepresentation of writers over the age of fifty, much less sixty-five. The resulting stereotypes do not reflect the rich and diverse personalities of older adults today, and rarely reflect their perspective accurately.
♦♦♦♦♦
The Stage reports on a digital culture survey of UK theatres that found digital technology use in theatres is in decline:
Arts Council England has expressed disappointment that theatre organisations have reduced their investment in digital innovations. The Digital Culture 2015 report indicates that stand-alone digital works by theatre companies have fallen "significantly" by eight percentage points over the past two years, with just 8% stating they use digital to create such work. In addition, theatres are seeing less of an impact from digital technology than the wider arts as a whole – 63% of theatre companies said they had at least a "fairly major" impact, while 72% of the arts sector as a whole said the same.