There are no tickets
available for purchase
at this time.
Get Tickets
Link Roundup! – 11/13/15
Link Roundups feature articles and bits of internet goodness that our dramaturgy team digs up. If you find something you want to send our way, drop us a line on Facebook or Twitter!
♦♦♦♦♦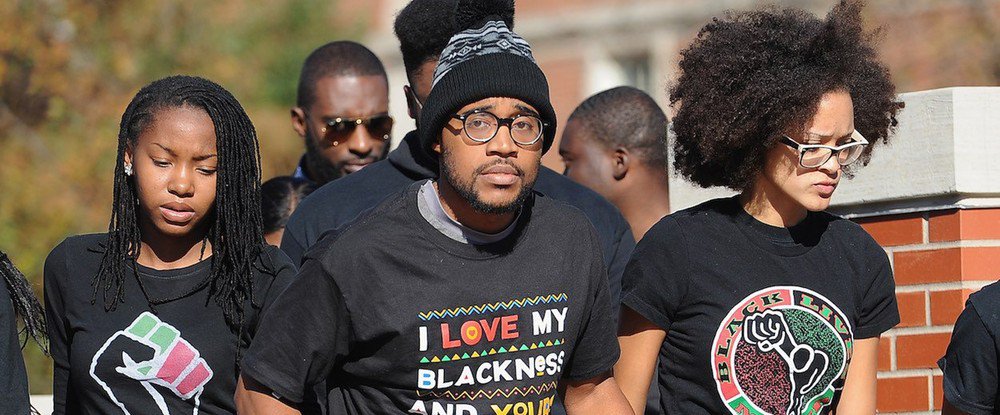 Roxane Gay's post in The New Republic does a good job detailing the recent student activism at Mizzou and Yale, as well as detailing the larger cultural forces behind the protests:
There is often condescension in examinations of these supposedly fragile young people who don't understand the real world. College students do, however, understand the real world, because they aren't just students: They do not abandon their class background or sexuality or race or ethnicity when they matriculate, and their issues do not vanish when they register for courses. We should not dismiss their valid concerns. To do so, to invalidate their experiences, would be to invalidate their diversity and ignore their hurt. American colleges and universities have always been incubators for the privileged, and the only people who continue to operate there with some guarantee of physical and emotional safety are white, heterosexual men. Is it any wonder, then, that students are demanding a basic guarantee of safety?
♦♦♦♦♦
WGBH Open Studio will be airing an episode tonight specifically about the recent changes in the Boston theatre landscape related to lack of space and resources. You can check out a preview HERE, and tune in at 8:30pm to catch the rest.
♦♦♦♦♦
Aziz Ansari's new show Master of None is getting a lot of attention, and Ansari has used the spotlight to talk about the importance of diversity in TV and film and call Hollywood out for it's hypocritical practices regarding race, which he he does to great effect in this NYT op-ed:
Sure, things are moving in the right direction with "Empire" and "Fresh Off the Boat." But, as far as I know, black people and Asian people were around before the last TV season. And whatever progress toward diversity we are making, the percentage of minorities playing lead roles is still painfully low. (The numbers for women are depressing as well.) In 2013, according to a recent report produced by the Ralph J. Bunche Center for African American Studies at U.C.L.A., only 16.7 percent of lead film roles went to minorities. Broadcast TV was worse, with only 6.5 percent of lead roles going to nonwhites in the 2012-13 season. In cable, minorities did better, getting 19.3 percent of the roles.
♦♦♦♦♦
Via Playbill, in response to the New York Times' decision to remove production credit listings from its theatre reviews, over 80 playwrights have signed a letter petitioning them to restore the credits online and in print, including C1 alums Annie Baker and Branden Jacobs-Jenkins:
Baker, a Pulitzer winner for The Flick, confirmed to Playbill.com that she penned the letter with the help of her fellow playwrights.

She told Playbill.com that a scenic designer alerted her to the Times omission in recent weeks. "Every playwright I talked to was very concerned and many of them reached out to me with stories about how integral their crews and design teams have been to the writing of their plays," Baker said.

Baker added that the Times had responded, saying the letter would be passed along to culture editor Danielle Mattoon