There are no tickets
available for purchase
at this time.
Get Tickets
Link Roundup – 11/6/15
Link Roundups feature articles and bits of internet goodness that our dramaturgy team digs up. If you find something you want to send our way, drop us a line on Facebook or Twitter!
♦♦♦♦♦
The Guardian has an article asking organizations to consider how they impact the local communities that don't necessarily see their work:
Every theatregoer has an example of a play that changed their life to a greater or lesser extent. However, the real question I reckon theatres need to ask themselves is not whether what they do impacts on those who go to their shows but whether what goes on in their building really has a significant impact for those who have never stepped inside it? This is not about an individual's response and relationship to a particular show in a particular building, but about a play and a venue's relationship to the community at large.
♦♦♦♦♦
The LA Times has a story summing up the recent stats surrounding theatre donors and attendance:
Theaters are making adjustments by trying new approaches, she said, including more emphasis on shows geared toward children and parents.

The report said that productions for young audiences were "a bright spot" in which attendance grew 12.9% between 2010 and 2014. But childrens' series accounted for just 3% of total attendance at the 118 theaters surveyed over the five years.

"More theaters would benefit from producing high-quality programming for multigenerational audiences," Eyring said. "Not only because the numbers tend to be on the rise, but it's a way of engaging the next generation of theatergoers."
♦♦♦♦♦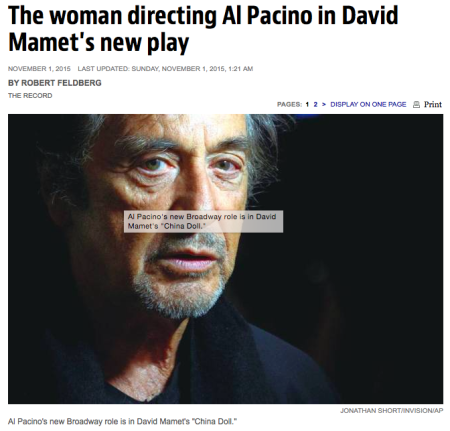 Howard Sherman's blog features a post examining the way arts headlines can perpetuate gender inequality:
Now I knew instantly that the piece was about Pam MacKinnon because it's my business to know who's working on what show, but also because Pam has quickly become one of New York's most recognized female directors, for such works as Clybourne Park (for which she had received an Obie) and Who's Afraid of Virginia Woolf? (for which she won a Tony). Yet the headline was all about the big, male names, even though neither of them had spoken to The Record's Robert Feldberg. Only Pam had done so.
♦♦♦♦♦
The Art Works blog has an interview with Nicholas Viselli, the artistic director of Theater Breaking Through Barriers — a company with the goal of advancing theater artists with disabilities:
NEA: What do you think we, as a wider cultural community, can do to push this along?

VISELLI: The hard part is that shift in perception. I don't know if it's ever going to be possible in my lifetime, but I'm going to be fighting every day to remove the stigma associated with disability. Nobody wants to be disabled, let's face it. But a disability certainly doesn't mean that a person is less than, or that they aren't capable of producing superior work, or art.

People always misquote Charles Darwin. People say, "Darwin is all about survival of the fittest; only the strong survive." That's incorrect. The truth is, it's not the strong that survive; it is those that are most adaptable to change that survive. People with disabilities are the most adaptable people that I know. When you have an obstacle that you have to face every day, and you overcome that obstacle every day, that's adaptability. There is such strength in that.