There are no tickets
available for purchase
at this time.
Get Tickets
Link Roundup! – 7/23/15
Link Roundups feature articles and bits of internet goodness that our dramaturgy team digs up. If you find something you want to send our way, drop us a line on Facebook or Twitter!

♦♦♦♦♦
American Theatre Magazine has a story about how regional theatres are using teen programming to change the makeup of their audiences:
Large theatre institutions can seem impenetrable to high schoolers. Narrow programming interests, high ticket costs, and a lack of diversity are just a few of the barriers that can make theatres feel unwelcoming, or worse, irrelevant to teen audiences. So it's hardly surprising that many theatres are working to break down these walls and integrate teens into their organizations—and not only into their audiences. Through teen council or teen ensemble programs, young folks all over the country are getting hands-on experiences at regional theatres, where they learn all aspects of producing theatre, receive leadership training, and make important contributions to their respective institutions.
♦♦♦♦♦
On her blog, Melissa Hilllman breaks down the issues with the overuse of the word "offended":
People who are resisting bigotry are often dismissed with the belittling idea that they're "offended," as if fighting cultural oppression and the tools with which it creates, disseminates, and preserves that oppression are equivalent to an imaginary schoolmarm shocked at finding the word "fuck" carved into a desk. No, we are not "offended." We're fighting bigotry, and it's belittling to pretend it's just about offending our personal, delicate sensibilities.
♦♦♦♦♦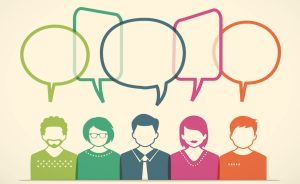 Everyday Feminism's post on 6 Strategies for Effective, Change-Making Dialogue has some great tips:
I, too, have found myself passionately, but ineffectively, dialoguing with other folks about social justice topics I care about.

I didn't take the other persons' experiences and feelings seriously, nor did I create an opportunity for them to actively participate in the conversation. Instead, I was more interested in convincing them to change their minds and arguing against their points.

Consequently, the people I was attempting to dialogue with felt belittled, attacked and closed off to new ideas while I ended up frustrated, angry and deflated because they just wouldn't "get it."
♦♦♦♦♦
Playbill has a story about he National Asian American Theatre Company and casting Asian American roles at large theatres:
"The second Chekhov that we did, which was The Cherry Orchard, we were talking to our set designer. She wasn't sure whether she wanted to come on board because she kept saying, 'Oh, are we going to reset this into an Asian cultural context?' And I would say, 'No, that's not what we do.' She thought about it and finally came back and said, 'Well actually, I don't ask Irish-Americans the same question. Why do I assume that they have a natural affinity, or they're able to represent Russians onstage any more believeably than an Asian-American theatre company?'"