There are no tickets
available for purchase
at this time.
Get Tickets
C1 featured in two Boston Globe Articles!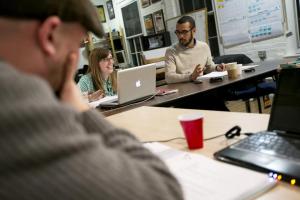 "In today's theater, dramaturgs do anything from mundane script management to researching a play's historical background, from suggesting changes in a play's structure to arranging post-show discussions with the audience." -The Boston Globe
CLICK HERE TO READ THE FULL ARTICLE:"Offstage, dramaturgs are playing a prominent role"
---
"Boston's theater community has long talked about racial and ethnic diversity, particularly in regard to actors. But recently questions about women's place in theater have moved back into the spotlight.
"Most people are like, 'Eh, we're doing OK on gender, we don't need to pay attention to that.' And in fact we're not doing OK on gender," said Ilana Brownstein, director of new works at Company One Theatre and founder of the grass-roots group Playwrights' Commons." – The Boston Globe
CLICK HERE TO READ THE FULL ARTICLE:"Spotlight shines on area theater's diversity gap"