There are no tickets
available for purchase
at this time.
Get Tickets
BosTEEN | COLOSSAL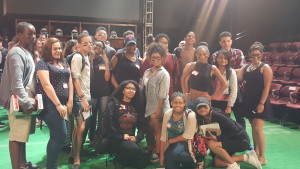 BosTEEN: COLOSSAL was a terrific night! Teens from Hyde Square Task Force, Lyric First Stage, and Emerson College's Pre-College Acting Program came together before the show for some fierce competition.
Participants battled for high scores in Trivia, Turf-Tac-Toe, and networking questions to win prizes, including tickets to upcoming shows in the city.
After the show, C1's Professional Apprentices led a post-show conversation with members of the cast about overcoming challenges, making tough decisions, and told some behind-the-scenes stories from the rehearsal process.
Be sure to look out for our BosTEEN: DRY LAND dates and info, coming soon!