There are no tickets
available for purchase
at this time.
Get Tickets
We Are Proud to Present a Presentation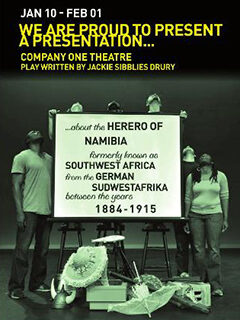 We Are Proud to Present a Presentation is about the Herero of Namibia, Formerly Known as Southwest Africa, from the German Sudwestafrika, Between the Years 1884-1915
By Jackie Sibblies Drury
Directed by Summer L. Williams
A co-production with ArtsEmerson
January 10 – February 1, 2014
The Jackie Liebergott Black Box @ The Emerson/Paramount Center
The personal and political, humorous and harrowing collide in this exhilaratingly irreverent play from Boston's own Company One. A rehearsal room descends from collaborative to absurd as a group of idealistic actors attempt to dramatize the little-known first genocide of the 20th century. But as the ensemble wrestles with this remote story, tensions mount, and their exploration hits much closer to home than anybody expected. One of The New York Times top ten plays of 2012, We Are Proud to Present a Presentation... is an innovative, fast-paced and uncomfortably funny take on race, empathy and the devastating consequences of our best intentions.
C1's Take:
Jackie Sibblies Drury's experiential new play is hilarious and deeply resonant in both our local and national communities. This production marks our first collaboration with ArtsEmerson – one of Boston's most exciting cultural institutions. WE ARE PROUD…, directed by our own Summer L. Williams (NEIGHBORS), will be unlike anything you've experienced at Company One, and is certain to cause a ruckus.
"90 MINUTES OF ORIGINAL, ENLIGHTENING, PULSE-POUNDING THEATER…IT'S ABSOLUTELY THRILLING…IT IS VISCERAL, FIERCELY INTELLEGENT, AND ENTERTAINING."
- —BACKSTAGE
Cast
PLAYWRIGHT & PRODUCTION STAFF
---
Jackie Sibblies Drury
Jackie Sibblies Drury is a Brooklyn-based playwright. Her Edgerton New Play Award winning play, We Are Proud to Present a Presentation was recently presented at PRELUDE.11, and will have its world premiere at Chicago's Victory Gardens Theater this spring. Her work has been featured at Victory Gardens' 2010 Ignition Festival, The Magic Theatre, and the Bay Area Playwrights Festival. She is a graduate of Brown's MFA playwriting program, where she received a Weston Award as well as the David Wickham Prize in Playwriting. Jackie is a member of the 2011-12 Soho Rep Writer/Director Lab, a 2010-12 New York Theater Workshop playwriting fellow, a member of The Civilians' R&D group, and The Lark's Playground group. Jackie is a MacDowell colony fellow, and a committee member of The Public School New York.

Summer L. Williams
Ms. Williams has been with Company One since its inception in 1998. An active member of the Board of Directors, Summer is a producer, director and educator for Company One. Her most recent directing credits include the New England Premiere of Idris Goodwin's HOW WE GOT ON and Lynn Nottage's BY THE WAY... MEET VERA STARK at the Lyric Stage Company of Boston. Regional credits: THE BROTHERS SIZE and MARCUS; OR THE SECRET OF SWEET as part of the THE BROTHER/SISTER PLAYS (2012 Elliot Norton Award nominated for Outstanding Production and winner of the 2012 IRNE Award for Best Play), NEIGHBORS, GRIMM, THE GOOD NEGRO, VOYEURS DE VENUS (Winner of 2009 Elliot Norton Award for Outstanding Director), THE BLUEST EYE (IRNE and Elliot Norton Award nominated), THE LAST DAYS OF JUDAS ISCARIOT, SPELL #7 (IRNE nominated), JESUS HOPPED THE A TRAIN (2004 Elliot Norton Award for Best Fringe Production) TWILIGHT: LOS ANGELES 1992 (IRNE nominated). Ms. Williams has also directed for the Boston Playwrights' Theatre, Clark University, Brandeis University, The Theatre Offensive and Huntington Theatre Company. She is a teacher of drama and director at Brookline High School and holds a B.A. in Theatre, as well as a MA Ed. in Theatre and Urban Education. Ms. Williams serves as a member of the Board of Directors of both Stage Source and The Coolidge Corner Theatre.

Ramona Ostrowski
Ramona is thrilled to be joining Company One this season. Previously, Ramona was the Literary Associate at the Eugene O'Neill Theater Center, where she worked on projects by Sam Hunter and Dan LeFranc, among others, and served as the Festival Dramaturg for the Young Playwrights Festival. She was an Artistic Intern at New Repertory Theatre in Watertown, MA, and is a graduate of Boston University. Ramona would like to thank Summer and the amazing cast and crew for this fascinat- ing, fulfilling process.

Jason Ries
Jason works as a scenic and lighting designer throughout the Boson area and is the Tech Theatre Instructor at the Pingree School in South Hamilton as well as the Production Director for Monkeyhouse monkeyhouselovesme.com (AGAINST THE ODDS and Æ). As Resident Designer at EXITheatre in San Francisco from '97-'04, he enjoyed collaborating regularly with Mark Jackson and Banana, Bag & Bodice. Recent work with Company One (THE ELABORATE ENTRANCE OF CHAD DEITY) and Actors Shakespeare Project (TWELFTH NIGHT) received IRNE and Norton Award recognition.

Christopher Brusberg
Chris is excited to be working on his first Company One show. Design credits include: CAMELOT, MASTER CLASS, FRANKIE AND JOHNNY IN THE CLAIR DE LUNE (New Rep), THE OTHER PLACE (Central Square Theater), THE THIRD STORY (Titanic Theater Company), LOOSE, WET, PERFORATED (Guerilla Opera), DEAD MAN WALKING (Boston Opera Collaborative), COSI FAN TUTTE, CARMEN (Boston Midsummer Opera), MONSTER, I AM MY OWN WIFE (BCAP), RICHARD III (Northeastern), ÆTHELRED THE UNREADY (Vassar). Chris holds a BFA from Boston University.

Meredith Magoun
Meredith is very excited to be working for her first time with Company One! She holds an MFA in costume design from Carnegie Mellon University ('11) and a B.A. in Theater from Smith College ('05). She has put her degrees to good use design- ing shows with Stoneham Theatre, Arts After Hours, Longwood Players, UMass Lowell, Berklee College, Emerson College and Notheastern University. She also teaches costume design at Boston Performing Arts Academy. She would like to thank her friends and family for all the support and encouragement she has received. A special thanks goes out to Wubie! Check out her work at www.meredithmagoun.com.

Allyssa Jones
Allyssa (M.M., Northern Illinois University) is a critically acclaimed educator, composer and performer. Currently serving the Boston Public Schools as Program Director for Performing Arts, Allyssa also has been an active music clinician and presenter for over fif- teen years. In 2001, Boston Magazine named her one of "40 Bostonians to Watch" for her work with vocal jazz and choral ensembles. Her conducting credits include over a decade of performances as vocal music director at Boston Arts Academy, and appearances with the Boston Children's Chorus and the MMEA-Northeast District Junior Festival Treble Chorus. A Surdna Fellow, Allyssa's artistic credits include two solo recordings, appearances on music festival and theatre stages throughout the Northeast and Midwest, original composi- tions for theatre, including Company One theatre company, and arrangements for recording artists and school groups. Recent projects include origi- nal music for Knockaround Kids (feature film by John Oluwole ADEkoje), Hidden Faces of Courage (play produced by OWLL and Fort Point Theatre Channel), and Peggy Picket Sees the Face of God (play produced by the Apollinaire Theatre). Currently, she is working on a music video series featuring a suite of new songs. A long-time fan of Company One, Allyssa is excited to be a part of this production.

Helena Mestenhauser
Helena is very excited about her debut with Company One for WE ARE PROUD TO PRESENT A PRESENTATION. She is a student currently in her fourth year at Northeastern University, majoring in International Affairs and Cultural Anthropology, and minoring in Theatre. Design credits include: PAINT ME A PICTURE (Bad Habit Productions), R+J (Boston Theater Company), DONNIE DARKO (Northeastern University), and HAMLET (Prague Shakespeare Company.)

Abigail Medrano
Abigail is excited to work with Company One for the first time. She is currently working on getting a B.F.A. in Stage/Production Management at Emerson College. Stage Management credits include: MAHAL (Bailiwick Chicago), A DREAM PLAY (Heart & Dagger Productions), CAFE VARIATIONS (SITI Company/ ArtsEmerson), and WHAT'S THE T? (About Face Theatre). She would like to thank her parents, her brother Kevin, and friends for supporting her.

Danny Zeliger
Danny is excited to be working with Company One on this difficult and extraordinary production. Directing credits include VAPOR LIQUID SNOW SOLID, DANNY AND THE DEEP BLUE SEA (Paradox Theatre), GUY CODE, and AND LIKEWISE (Clark University).

Daniel Jones
Daniel is honored to be working with Company One for the first time. He holds a BA from Emerson College in Theatre Studies and Writing, Literature, & Publishing. He was a member of the inaugural class of Creative Producers-in-Training at ArtsEmerson: The World on Stage, where he currently serves as an External Affairs Assistant. Previous theat- rical experience includes: THE AFTER-DINNER JOKE (Creative Producer), Margaret Atwood's THE HANDMAID'S TALE (Adapter/Director), and IN THE BLOOD (Director).

Gloria Clark
Gloria is excited for her first production with Company One. She recently moved to the Boston area, after receiving her Masters of Arts in Theatre from Illinois State University. Past credits include: EXHIBIT Q (The New Museum, New York City), ANON(ymous) (Illinois State), and MOTHER COURAGE AND HER CHILDREN (Illinois State). Gloria also acts as Outreach Director for the Open Theatre Project. She would like to thank the cast and crew for all their great work and fun times, and she is also grateful for the love and support from her family and friends.

Matthew Nadler
Matthew is excited to be working with Company One on WE ARE PROUD TO PRESENT A PRESENTATION... He is currently working on his BFA in Stage and Production Management from Emerson College here in Boston. He sends his love and thanks to his family and friends here in Boston, and home in Chicago.

John Meredith
John is extraordinarily grateful for this amazing opportunity to work with Company One on his first assignment at Emerson College. Recent tech- nical credits include NOISES OFF (ORHS), INTO THE WOODS, THE WIZARD OF OZ (The Oyster River Players), and NHETG Regional Festival Stage Manager. John gives his greatest thanks to the support of his friends, family, and Stage Management team
Conversation with Playwright Jackie Sibblies Drury – Company One and ArtsEmerson, Boston – Sun, Jan 19 2014:
Stay tuned for information on special events!
Reviews
January 17, 2014
January 17, 2014
January 17, 2014
January 17, 2014
January 17, 2014