There are no tickets
available for purchase
at this time.
Get Tickets
BLACK SUPER HERO MAGIC MAMA (Postponed)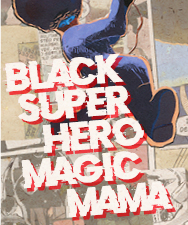 In light of the necessary and continuing efforts to limit the spread of COVID-19, Company One Theatre is postponing the remaining productions of Season 21, Clare Barron's Dance Nation and Inda Craig-Galván's Black Super Hero Magic Mama.
C1 Returns to The Strand Theatre!
BLACK SUPER HERO MAGIC MAMA
by Inda Craig-Galván
directed by Summer L. Williams
in partnership with the City of Boston's Office of Arts & Culture
"Impressively daring, the play escapes into a comic-book universe to better come to grips with an overwhelming — and all too real — American horror." — LA Times
In all the books that Sabrina Jackson reads her son Tramarion, tragedy's just an origin story, something to propel the heroes into wondrous new worlds. When tragedy strikes in her own life, Sabrina launches herself into a fantastical, technicolor universe where she gets to be the hero.

A high-flying adventure that refuses to be held down by the gravity at its core, Inda Craig-Galván's Black Super Hero Magic Mama is a powerful refutation of the disproportionate expectations placed on Black mothers and their sons.

Coming Soon
Stay tuned for information on special events!
Coming Soon