There are no tickets
available for purchase
at this time.
Get Tickets
This class was wonderful. I learned I can write my own play, and it's fun. I learned to speak loud in front of an audience. Working with others helped me be more kind and feel successful."
– Maria, ESL student, Boston Adult Technical Academy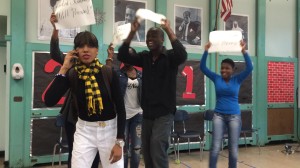 Using improvisation as its core, the Stage One: In School Theatre classes include an emphasis on group work for the development, shaping, and presentation of ideas. Students in the class will develop acting techniques while also creating original individual and group-based scenes. Classes will produce work dealing with social, political and academic issues relevant to a high school-aged population.
The curriculum embraces the BPS Theatre curriculum "Critical Learning Topics" of:
performing and presenting
creating and improvising
listening and viewing – encompassing discriminating, analyzing, critiquing,
thinking, reflecting and judging
artistic literacy – enabling a student to use the symbol system of the discipline and the technology that promotes learning and research
relationships – unifying themes of style, form and context
context – understanding the historical, cultural, and community-based context
value of the arts – understanding arts in one's own life and in the improvement of society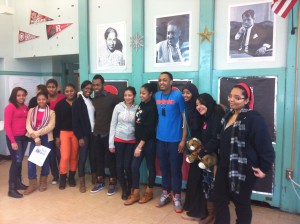 This year Stage One teaching artists are working with students in seven Boston Public Schools:
Boston Adult Technical Academy
Boston Community Leadership Academy
Fenway High School
Greater Egleston High School
Josiah Quincy Upper School
New Mission High School
Young Achievers Science & Math Pilot School
In collaboration with EdVestors and the Boston Public Schools Arts Expansion Initiative, as well as a Full Service Grant, Company One Theatre has residency in seven Boston Public High schools. Thanks to an Extended Learning Time grant, we are now branching out to elementary schools and will be teaching at Young Achievers Science and Math Pilot School this year.
Visit the Boston Public Schools Arts website to check out Company One Theatre's In-School profile.
For more information about ways to collaborate with Company One Theatre's In-School programs, contact Education Director, Mark VanDerzee at mvanderzee@companyone.org.