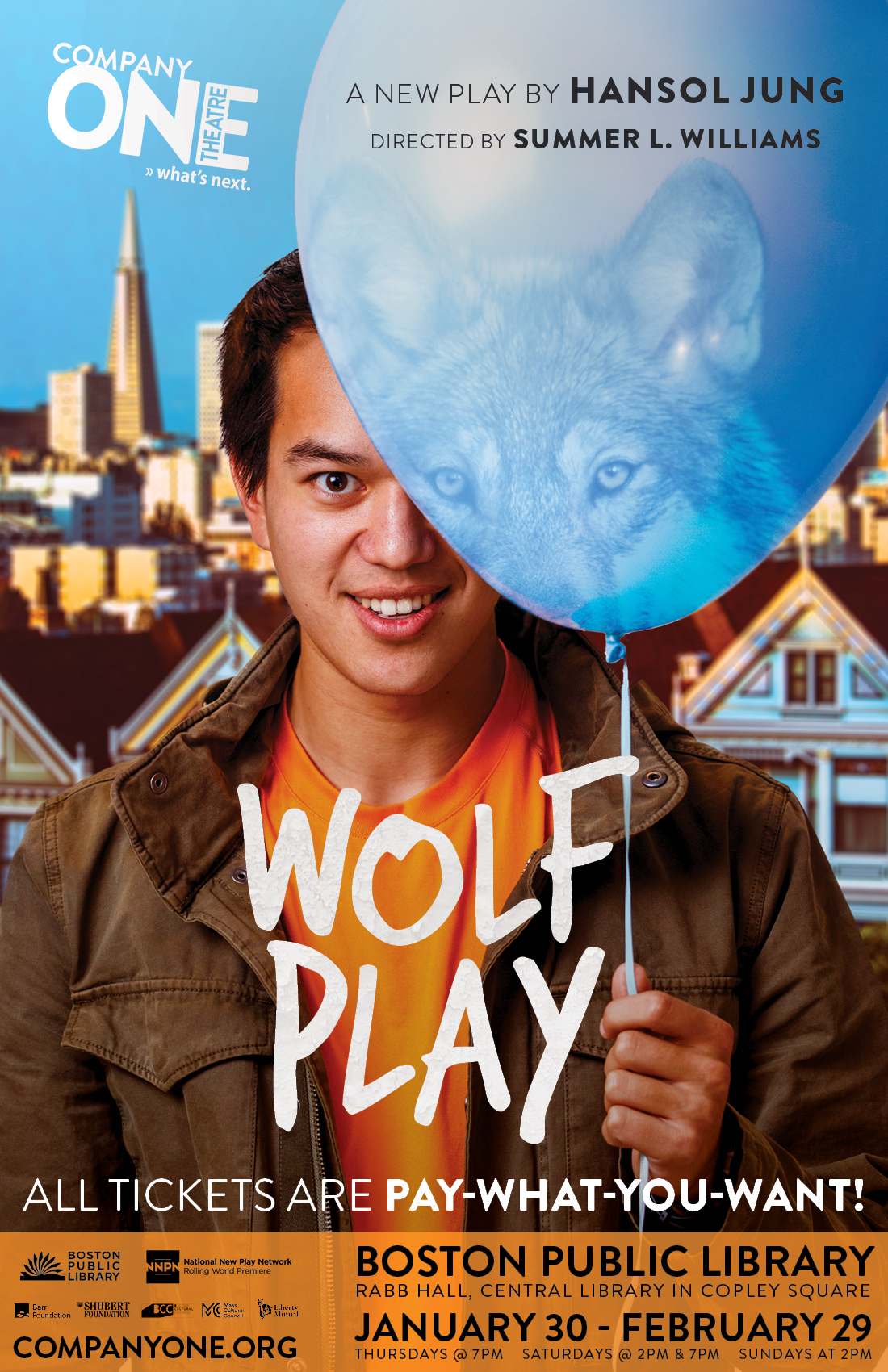 A National New Play Network Rolling World Premiere
Can I Touch It? (GR DRAFT)
Test
Jun 20 - Jun 30, 2022

Test
iiiiiiin this corner, we have southpaw boxer Ash, who's on the verge of her pro debut when her wife Robin adopts a Korean boy off the internet without technically checking in with Ash first. Aaaaaaaaand in this corner, we have the boy's first pair of adoptive parents, who were all set to unadopt him until they realized he'd be growing up… without a dad. Now, the boy is caught in the middle, and just wants to find his wolfpack.
Hansol Jung's WOLF PLAY is a deeply theatrical hunt for familial connection in the wilds of 21st century America.
Recommended for ages 14 and up.
This production includes adult language and potentially difficult subject matter.
Want to reference one of our dramaturgy articles? Click here for citation information!
Company One Theatre is producing
Wolf Play to AMPLIFY:
that every child deserves love and a fighting chance to heal from personal and cultural trauma

the many ways people become family, and the extreme lengths they may go to protect the pack

the tools needed to navigate the thin dividing line between vulnerability and violence 

local efforts to support the lived experiences of transracial and transnational adoptees

accessible theatre that opens conversations for all, thanks to Pay-What-You-Want ticketing and the support of the Boston Public Library
Connectivity Partners
The Trauma Center / Trauma-Sensitive Yoga division at Boston's Justice Resource Institute
PLAYWRIGHT AND PRODUCTION TEAM
BIOS
Chris Everett
Chris Everett (she/her), born and raised in Boston, is an actor, singer, and audiobook narrator. Recent theater credits include, ONWARD: Votes for Women (Birch Tree Productions), in November 2021, her first live performance following the shutdown in March of 2020. Prior to the shutdown, Chris worked on Christmas Revels: An American Celebration (Revels), The House that will not Stand (Front Porch Collaborative); 'How Long Must We Wait?" (History At Play), and Romeo & Juliet (Commonwealth Shakespeare Company). She has also been an actor / educator with Improbable Players (now 2nd Act) for more than 20 years. During the pandemic, Chris was fortunate to work on virtual productions and / or readings with CompanyOne, Birch Tree Productions, Zoom Shakespeare, and Newton Nomadic Theater. For the past 21 years, Chris has worked primarily in television and film. Television: "Chasing Life", "SMILF", and "Castle Rock". Film: About Fate (in post-production), I Care A Lot (Netflix), Godmothered (Disney+), TED, R.I.P.D. and the recently released Don't Look Up, with Leonardo DiCaprio and Jennifer Lawrence (released 12/24/21).
Jada Saintlouis
Jada Saintlouis (she/her) is making their Company One Theatre debut! Jada, a theatre student Northeastern University paves her way. Performing locally around the greater Boston area for several years, she continues to explore new artistic experiences. Recent credits include: Dee in Ladies Night at the Boston Playwrights Theatre. Detox counselor, ensemble member in Northeastern university production of This is Treatment. She is passionate about artist activism and plans to continue to engage in work for change.
Click each thumbnail to enlarge. Photos by Andrew James Wang
Audience members had the opportunity to respond to two questions on our lobby response board:
– What thoughts, feelings, and questions are you left with about the play?
– What does your "inner wolf" look like? What do they protect you from?
Click each thumbnail to enlarge.
© 2022 Company One — Boston Theatre tel: 617.292.7110 — fax: 617.307.4475 — email: info@companyone.org — 539 Tremont St — Boston, MA 02116