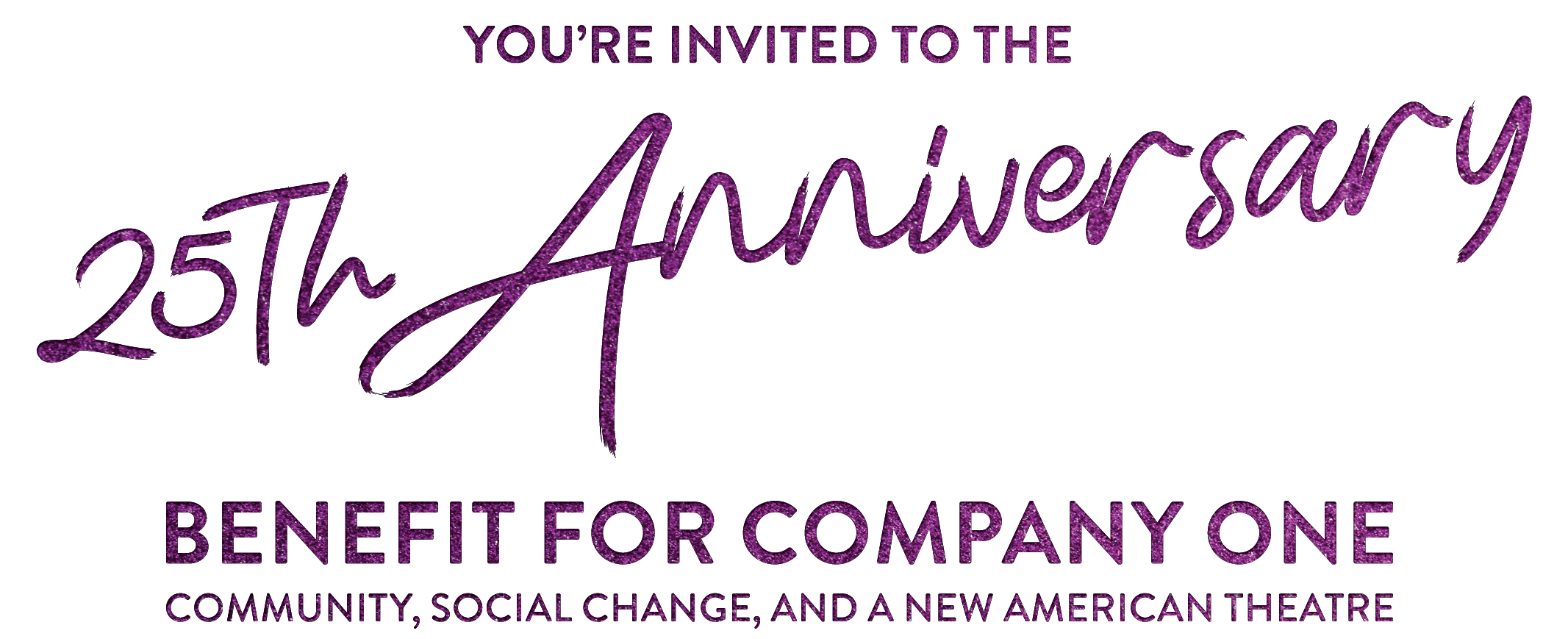 The 25th Anniversary Benefit for Company One
Community, Social Change, and a New American Theatre
With co-chairs Linda Nathan and Antonio Ocampo-Guzman
This spring, join Company One Theatre and friends from past and present to honor 25 seasons of adventurous storytelling, impactful education, and community-centered social action! Celebrate this important milestone with fantastic food, dynamic performances, and a dance party you won't forget, all while supporting what's next for C1. Show up and show out at the biggest party of the year!

Date: Monday, May 6, 2024 at 6:30pm
Location: Northeastern University, East Village 17th Floor

Become an event sponsor today
and join our vision for a Boston defined by justice, equity, and artistic innovation, all while reaching our growing audience of diverse and creative supporters!
Who is Company One Theatre?
For 25 years, C1 has been home to Boston's most vital storytellers, artists, educators, and community organizers who are fighting for social justice and cultivating the next generation of changemakers. We create dynamic theatrical events that amplify opportunities and urgent issues impacting systemically and historically marginalized people, reaching over 2000 artists, 15,000+ students, and 100,000+ audience members since our founding in 1998. Our distinct approach has earned local and national recognition, and we've seen rapid growth in our audiences and internal infrastructure as we approach this crucial milestone year.
What makes C1 distinct?
We bring our art and education into community spaces, classrooms, and publicly accessible, city-owned spaces across Boston so that theatre as public art for public good is accessible to all! Our programs are designed to reach multiple generations, in multiple geographies, through multiple modes of engagement — 58% of C1's audience identifies as BIPOC, and 52% of our audience is under age 35, and we have artists, partners, and audience members in every Boston neighborhood (and beyond!).
Your sponsorship supports C1's mission to build community at the intersection of art and social change. Make your commitment today!
For more information, contact Jessie Baxter, Director of Development and Connectivity, at development@companyone.org or 617.292.7110. We're happy to answer questions or discuss ways your sponsorship can meet your specific goals and connect with our audience.
Event Sponsorship Levels

Transform Sponsorship: $25,000

All the benefits of the sponsorship levels below, plus:
Placement in Company One's Season 25 production programs with 1/2 page ad, and a full-size digital ad displayed on the May 6 event slide show throughout the night

Dedicated social media posts before and after the event

Entrance for up to 30 people with a reserved area for your group

A special gift for each of your attendees
Inspire Sponsorship: $10,000

All the benefits of the sponsorship levels below, plus:
Prominent recognition as a Season 25 Sponsor, with special acknowledgement at all productions, in playbills, on the company website, and in digital communications — reach over 25,000 people in the C1 community!

Placement in Company One's next production program with 1/4 page ad

Entrance for up to 25 people with a reserved area for your group

Open bar access for your group
Impact Sponsorship: $5,000

All the benefits of the sponsorship levels below, plus:
Prominent recognition as a single show sponsor in Season 25, with special acknowledgement at all productions, in playbills, on the company website, and in digital communications — reach over 25,000 people in the C1 community!

A digital ad displayed on the May 6 event slide show throughout the night

A private pre-event toast for your group with C1 honorees, artists, and company leadership

Entrance for up to 25 people with drink tickets and a reserved area for your group
Activate Sponsorship: $2,500
Your name displayed and publicly acknowledged during the May 6 event, plus social media acknowledgement

Entrance for up to 12 people and drink tickets for each person in your group
Amplify Sponsorship: $1,000
Your name displayed and publicly acknowledged during the May 6 event, plus social media acknowledgement

Entrance for up to 6 people and drink tickets for each person in your group
All sponsorships include a tax-deductible donation to C1